Cryptocurrency is a decentralized payment system that operates with peer-to-peer transactions. The system adds each transaction to a permanent ledger, which is transparent to the parties. Processors, called miners, verify these transactions by solving hashing algorithms. The transactions create blocks of data, called a blockchain. As payment, miners receive a small amount of cryptocurrency for processing the transaction.
Bitcoin Whitepaper
In 2008, an unknown author, Satoshi Nakamoto, published the Bitcoin whitepaper, Bitcoin: A Peer-to-Peer Electronic Cash System. The abstract proposes a peer-to-peer electronic currency that does not require centralized bank processing. Instead, a hashing algorithm processes each transaction, which becomes a permanent part of an ongoing record of digital transactions.
Altcoin Competition
While Bitcoin (BTC) is the most well known cryptocurrency, there are many other cryptocurrencies, called alternate currencies or "altcoins." By the end of 2017, there were more than a thousand altcoins in existence since Bitcoin went online in 2009.
Altcoins are competing to become a secure transactional system that consumers will adopt. In the long-term, the success of an altcoin depends on its technology platform. Importantly, an altcoin should have a whitepaper that explains how it adds a new innovation to cryptocurrency technology.
Cryptoasset Winners
Ripple (XRP) was the top cryptoasset of 2017. Offering a "frictionless experience," Ripple enables financial providers to send payments around the world. Using an advanced blockchain technology, Ripple offers a scalable and secure transactional environment. Ripple's growing network includes American Express, Santander, and UBS.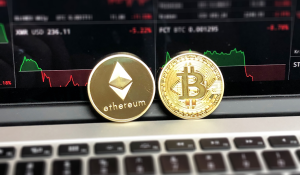 Litecoin (LTC or XLT) landed in the top-ten altcoins of 2017. Using blockchain technology, Litecoin offers fast confirmations and efficient storage. As a result, Litecoin provides instant global transactions for a very low cost.
Smart Contracts Competition
Many industries are utilizing the technology of smart contracts, which self-execute the terms of an agreement. In 2017, Cardano (ADA) emerged as a competitor for Ethereum (ETH), a leading smart contract provider.
Fully open-source, Cardano ranked in the top-ten for cryptocurrency performance in 2017. As its mission, Cardano aims to develop a smart contract platform with a "research-first driven" approach. Developed by a collective of engineers and researchers, Cardano hopes to exceed the capabilities of any other blockchain protocol.
As Ethereum's popularity continues, copycats are trying to mimic its success. To learn more about Ethereum, visit: What Is Ethereum? Here's What You Need To Know.